An Ode to Spring
Wednesday, April 27th, 2011, 8:24 am
As you might know, Boston – and New England as a whole – is rather famous for its mind-blowing fall foliage. Come mid-October, the Charles River is lined with bright orange, cherry red, deep maroon, and a canary yellow and I'll be the first to tell you just how stunning it is. I thought it was all talk before I moved here but, no, it's really quite magnificent.
What you don't hear about as often, though, is just how extraordinary spring is, too. Coming from mild-weathered San Francisco, I feel like I actually never experienced spring until moving to Boston. Sure, some of its grandeur stems from the contrast of fresh blossoms with the bare branches (and piles of snow, of course) that we had all winter – we really haven't seen natural forms of green (let alone bright pink) for months. Still, I argue that a visitor to Boston, even if coming from 50-degree "winter" like in California, will find it pretty inspiring as well.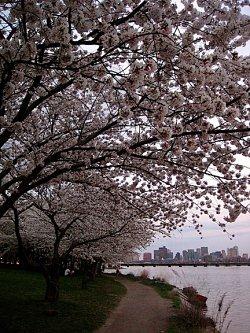 So, my first blog post is in tribute to one of my very favorite aspects of living in Boston – the seasons, and all of the transitions and changes and new beginnings that brings about, whether in the environment, or for each of us as people.
I shall proceed, then, with the best of spring in Boston – be you a visitor or a local.
Blossom-Peeping
OK, so this is a poorly-translated version of the term "leaf-peeping" that we all love to throw around in fall, but you get what I mean. Starting from around the beginning of April, and (hopefully!) continuing at least until May, I think the best use of a Saturday (or, heck, a Tuesday if you're a lucky tourist) is to tramp around town and look at, or try your best to capture with a camera, the array of blossoms. My favorite places to do so: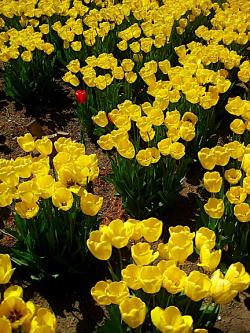 Patriots' Day / Boston Marathon and Red Sox
Days like these remind you that while Boston is a world-class city in many ways, it's also very much a town – a big town, but still a town. On Patriots' Day every year, Boston and the surrounding 'burbs basically shut down, as many Bostonites are off work and students skip class, to watch the marathon, perhaps catch a Red Sox game, and generally goof off on a Monday. The streets are relatively empty… unless you're right on the race route, that is.
Boston Marathon: Even if you're not quite fast enough to run the marathon itself (and we're talkin' fast, so don't feel bad if you're not), this is an event worth watching. This year alone, two runners broke the world record, and #4 Ryan Hall broke the American record. If you want to see the big boys come through, camp out along the race anywhere, or be sure to be near the finish line by about noon. If you want to see perhaps the most inspiring set – the runners who are perhaps decades older, or are new to running, and anywhere in between – then perhaps wait to get to the end until 3 or 4pm, when these amazing people have been running for probably about six hours straight. I never considered running a marathon until I saw them last year.
Red Sox Game: Just in case you aren't set on seeing the world-record-breaking marathoners come through, head to the Red Sox game, conveniently at 11am, then pour out onto the streets right after – the marathon route is only about a block away from Fenway. Red Sox + Marathon = hard to beat.
Go for an incredibly long walk
Boston residents are joyous as soon as the weather starts to get nice, and you won't be the only one pouring out onto the streets. Join the merry company by picking a fantastic brunch spot (my suggestions for such places deserves its own post) or a place to grab a beer that happens to be a few miles away, and revel in the warmth and atmosphere along the way. I've been waiting all winter to do this, and clearly so has everyone else.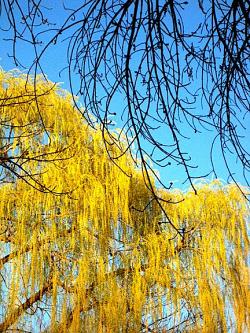 Get to know a neighborhood
Ready to venture out of the house again? Look up some history, bring a map, and get to know a random new spot. Last spring, my favorite explorations were in Jamaica Plain and Brookline (and generally trying to get lost on the way home). As a tourist, this means that after you hit the Freedom Trail, ask a local about his or her favorite neighborhood and go check it out – don't worry, you'll get blossoms along the way too.

The Isabella Stewart Gardner Museum is already one of my favorites, but it's really the place to be in spring, when the elaborate garden starts to reflect all of those new blooms I've been going on about.
Though I'll certainly come up with more ideas as spring progresses, I hope this is a good start for you. Now, get out in it!
Cheers to spring.

Meet our Boston Local Expert:
Jeanette Mellinger hails from San Francisco, but has been living in the Boston area since September 2009. Some of her favorite things include urban hiking, running, taking photos, finding the best brunch spots, and hanging out with great company over a microbrew, bottle of wine, or coffee. Luckily, these things mean she's explored a lot of Boston so far, and can't wait to see more!
Photo credits (all photos): Jeanette Mellinger
About 8 years ago guest_poster
Tags: boston, boston marathon, red sox, spring, usa
If you liked this post, share it with your Friends: