How to get from the airport into the city
Tuesday, August 24th, 2010, 1:22 pm
Many travelers think that when they land at the airport they arrived to their destination. Not knowing the best way of getting from the airport to the city is the most common mistake travelers make upon arrival.
When you are flying to Barcelona you arrive either to Barcelona International Airport (BCN) or to Girona, a town about 60 miles (100 km) from Barcelona.
Take the train from Barcelona International Airport
Your best option is to take the train from Barcelona International Airport to the city center. The train is operated by the national railway service (RENFE) and runs approximately every 30 mins. Travel time is about 25 minutes. Please check the time table on the official RENFE website. You can reach the train station from Terminal T2B. If you arrive to Terminal 1 you have to take the free shuttle bus to Terminal 2.

The following image shows you how to get from the terminal building to the train station: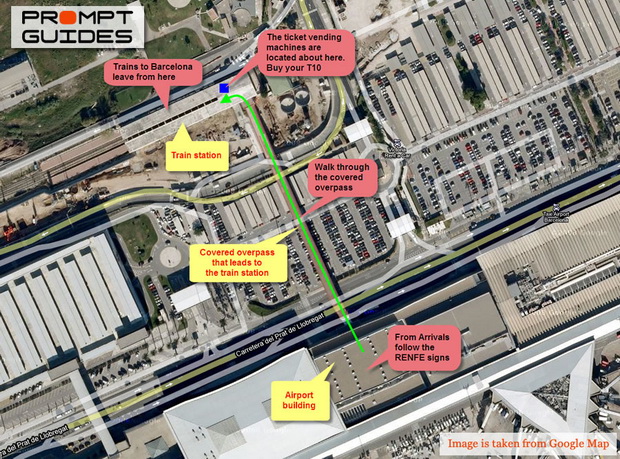 From Arrivals follow the RENFE signs. Walk through the covered overpass that crosses over the main road and the parking lot. It leads right to the train station. As you head to the trains, to your right you find the ticket vending machines. We recommend that you buy the T10 ticket (combined ticket valid for 10 rides on the whole Barcelona public transport system). It costs 7.80 € (0.78 € per ride). You can change to the Barcelona subway system at the following stations: Sants, Passeig de Gracia and Clot. Change to the subway within 1 hour and 15 min and your trip will be counted as one ride.
You can share a T10 ticket with your travel companions. (Learn more about the T10 ticket)
Tip 1: If you do not plan to use public transportation while in the city buy a single ticket. It costs 3 € and is valid to Sants Station in the city center.
Tip 2: If you travel with kids, are disabled or simply want a faster and more convenient service right to your hotel, we recommend that you book a Barcelona Airport Private Arrival Transfer. It costs 17.42 €.
Take the bus from Girona Airport
If you land in Girona we suggest that you take the bus to Barcelona. The ride costs 12 € (21 € return ticket) and takes 1 hour and 15 minutes. The bus leaves from right outside the airport and will take you to Barcelona's main bus terminal (Estacio d'Autobusos Barcelona Nord) in Barcelona city center. The nearest subway station is Arc De Triomf (Red Line, L1) and is 5-10 minutes walk from the bus station.
Please check the timetable on the web site of the operator.
About 9 years ago Luka
Tags: Barcelona, From the airport to the city, Getting around, Transportation
If you liked this post, share it with your Friends: