Amsterdam Canals Dinner Cruise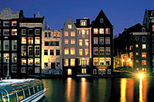 Combine wining, dining and sightseeing on this luxury four-course dinner cruise along Amsterdam's beautifully illuminated canals. What better way to spend the evening in Amsterdam!
You'll cruise aboard a luxury glass-domed motor launch while savoring a sumptuous four-course dinner, accompanied by free-flowing wine, beer and soft drinks. You will be greeted with a welcoming drink and your dinner is rounded off in style with tea and coffee. It promises to be a truly delightful evening!
"Best part of holiday, the trip was so relaxing and unhurried. The staff were attentive without being intrusive. To see the city by night was amazing, have already recommended it to friends."

Hazel S, December 2010
Book your Amsterdam Canals Dinner Cruise now
Ghent and Bruges Day Trip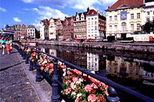 Spend the day in Belgium on a day trip from Amsterdam, and discover two of the most attractive Belgian towns: Ghent and Bruges. Escorted by a professional guide, you'll see all the major sites allowing plenty of free time for you to enjoy at your leisure.
The day begins with a three-hour journey to Ghent by deluxe coach. You'll have an hour to spend in this gorgeous medieval city, visiting the splendid St. Bavo Cathedral, the medieval Castle of the Counts and the town's many old towers and bridges.
Next you will continue to the historic city of Bruges, famous for its churches, Begijnhof, lace factories and fantastic shopping areas. You will have 2.5 hours to immerse yourself in Bruges before returning to Amsterdam. Don't forget to pick up some famous Belgian chocolates as delicious souvenirs of your visit to Belgium!
"This was a long but wonderful trip with a comfortable bus and knowledgeable guide. We spent just enough time in both cities. Fantastic!"

Timothy D, October 2010
Book your Ghent and Bruges Day Trip now
Holland Tulips and Windmills Trip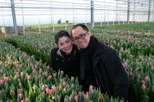 A tulips and windmills day trip from Amsterdam gives you the unique opportunity of seeing tulips bloom in winter! Enjoy a guided tour of a tulip-growing greenhouse and see millions of tulips begin to bloom. There's also a chance to enjoy some typical Dutch culture and cooking, visit a working windmill, eat lunch in the picturesque town of Medemblik on the IJsselmeer lake and taste some traditional Dutch cheeses at the windmill town of Zaanse Schans, a short distance outside Amsterdam.
"We participated in the Tulip and Windmills in winter. Though it was not the perfect season but with the vivid presentation and the reputation of being very hospitable (the colorful cakes, nice coffee and the well decorated guest-room), this could really compensate us with everything that we could miss. We do wish to visit again in SUMMER in short coming future."

Charlotte C, February 2011
Book your Holland Tulips and Windmills Trip now
Windmills, Marken and Volendam Trip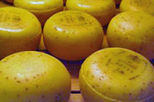 Leave Amsterdam behind for a few hours and discover the typical Dutch countryside outside the capital. You'll drive through a picture-perfect landscape crisscrossed with canals, see authentic wooden houses, windmills and fishing villages, and witness traditional crafts from days gone by. The picturesque village of Zaanse Schans is famous for its original buildings, vividly capturing Dutch life in the 17th and 18th centuries. You'll see the historic shipyard and windmills, and pay a visit to a shoemaker who works with wood to watch his clog-making techniques first-hand!
"Beautiful relaxing day trip in the country side, away from busy Amsterdam. Really enjoyed the Windmills, clog demonstration and cheese tasting. Marken and Volendam are pretty places. Boat trip was very relaxing."

Kathryn F, October 2010
Book your Windmills, Marken and Volendam Trip now
Amsterdam Super Saver Tour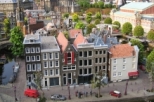 Amsterdam Super Saver 2 combines two best selling tours at a discounted price. Start the morning with a tour to Zaanse Schans Windmills, Marken and Volendam before spending the afternoon in Delft, The Hague and Madurodam. If time is tight and you'd like to travel beyond Amsterdam, this full-day super saver tour gives you a delicious taste of Holland. Even better, you'll enjoy a 10% discount when you buy these tours in this way.
"This tour was awesome!! The places we visited were very beautiful, the bus was comfortable, safe and clean, and all that was promised in the description was delivered. If I ever go back to Holland, I will definitely go back to The Hague and spend a whole day there, it is absolutely gorgeous."

Nathalie B, September 2010