Why visit / Interesting facts:
National Historic Landmark
Started the American public parks and gardens movement
Has a collection of over 5,000 trees
Time required:
50 minutes
Phone:
+1-617-547-7105
Opening hours:
| Time period | Opening hours |
| --- | --- |
| September - April: | 8am - 5pm |
| May - August: | 8am - 7pm |
Public transport:
Subway Red Line: Harvard Square
Address:
580 Mount Auburn Street, Cambridge, MA - USA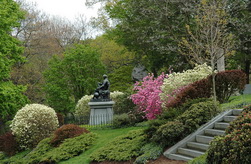 Photo: friendsofmountauburn
Things you need to know:
Mount Auburn Cemetery, founded in 1831, was the country's first "garden cemetery" or "rural cemetery", with classical monuments set in a rolling, landscaped terrain. The idea was to create a place for the living as well, including such features as ornamental plantings, monuments, fences, and fountains
Given the popularity of the place and its layout, Mount Auburn is credited with also starting the American public parks and gardens movement, and set the style for many other suburban American cemeteries
It is a National Historic Landmark, and one of the country's most significant cultural landscapes
The cemetery is 175 acres, and is important for its historical aspects and its role as an arboretum. It's still also known for its tranquil atmosphere, accepting attitude toward death, and amazing scenery throughout the seasons
As of 2003, more than 93,000 people are buried in the cemetery, including a number of historically significant people, especially from the Boston area or associated with Harvard
Mount Auburn has a collection of over 5,000 trees, representing 630 taxa. Thousands of shrubs and other plants are around the property as well
The cemetery is nondenominational, and continues to make space for more plots
The rising popularity of this type of landscape in the 1800s coincided with the increasing use of the term "cemetery", which comes from the Greek for "a sleeping place"
What to do there:
First and foremost, be sure to head to the far side of the cemetery, and climb the Washington Tower. The top provides panoramic views of downtown Boston, and far beyond
Pick up a map near the entrance, and do a self-guided tour of the grounds
Simply wander the area, and be sure to return each season to see the differences
Take a guided tour of the cemetery's historic, artistic, and horticultural points of interest
Go bird-watching - it's a favorite among those hobbyists
Tips & Insights:
We can't say this enough: go to the top of the tower! Just be aware that it tends to close one hour before the cemetery itself closes (and is not open at all during winter, though views from its base are great too), so plan accordingly
Such recreational activities as picnicking, jogging, rollerblading, and cycling are not allowed
Though it's a beautiful setting and feels like a park in many ways, keep in mind the general etiquette of a cemetery - in particular, please do not photograph any funerals that happen to be taking place, and do not touch the gravestones, many of which are very old