Hot Air Balloon Flight over Catalonia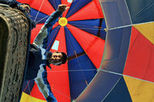 A hot-air balloon flight from Barcelona is the best way to capture outstanding views of Catalonia from heights of up to 3,000 feet (900 meters). Enjoying the sense of freedom and tranquility of floating through the air, you'll be airborne between 1 and 1.5 hours before landing for a sumptuous champagne brunch.
Floating through the air you can enjoy panoramic views of the Pyrenees, Mediterranean Sea, Montserrat, the massifs of Montseny and sometimes even Barcelona itself.
On landing you will be served a champagne toast and brunch as you are presented with your Flight Certificate.
"One of the most beautiful experiences ever. Well worth the expense and the memories are priceless."

Soo Mai H, Canada, October 2009
Book your Hot Air Balloon Flight over Catalonia now
Tapas Evening Walking Tour of Barcelona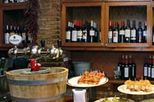 Your tapas walking tour of Barcelona begins at a restaurant offering a wide selection of local, delectable tapas. Here you will enjoy three tapas with a glass of wine or beer, while your food and wine guide provides insights into the flavors of the wine, the cuisine and Spanish culture.
From here your guide will lead you to Barcelona's most famous street, La Rambla, with its bird cages, tapas bars and local restaurants. On your stroll down La Rambla you will make a detour to La Boqueria, the city's famous food market which offers an array of fresh produce including fruit and vegetables, live seafood, cheeses and every type of meat imaginable.
You'll continue to the Gothic Quarter, where you will discover the architecture, atmosphere, language and gastronomy that are unique to Spain, and some of the gourmet shops which are over 100 years old.
Your last stop will be at a Basque bar in a historic 14th-century building, an ideal spot to take a break on your trip through the Gothic Quarter. Here four tasty tapas and a glass of wine, beer or cider will be waiting for you.
"This was a wonderful tour! Our guide was extrememly knowledgeable and the tapas and drinks were great!"

Jenny S, United States of America, March 2010
Book your Tapas Evening Walking Tour of Barcelona now
Flamenco Night at Tablao Cordobes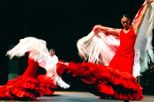 Feel the passion of the flamenco at Barcelona's legendary Torres Cordobes, where some of the greatest names in flamenco have performed. Entertained by an internationally renowned flamenco group, you'll discover why the traditional dance of Spain is so popular. You'll also have the option of dining on a traditional buffet meal or simply ordering a drink to enjoy while watching the show.
The flamenco show reveals the variety of music, singing and dancing incorporated in this passionate art form. Improvisation is a key element of flamenco, with each artist individually interpreting the rhythm and communicating the beat to the other players. Communication between the artists and audience is also an important part of the performance.
"A night to remember. Three generations of our family attended and we all enjoyed very much. Our eleven year old grandson thought it was GREAT!"

James B, USA, March 2011
Book your Flamenco Night at Tablao Cordobes now
Port Aventura Park & Caribe Aquatic Park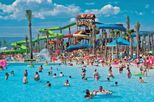 Experience a great day out for all the family at Spain's most popular theme parks, Port Aventura Park and Caribe Aquatic Park. Whether you want to get your heart racing on the exhilarating roller coasters, get drenched on the many water rides or relax on the beach, this is the place to be!
The park has plenty of spine-tingling rides and other attractions, such as the Temple del Foc (Temple of Fire) and Hurakan Condor (at 100 meters, one of the highest amusement park rides in Europe).
"Brilliant theme park, has amazing rides. Anyone going here should not be afraid to go in the thrill rides because it will be the biggest mistake! Honestly!"

Sophaaay, October 2010
Book your Port Aventura Park & Caribe Aquatic Park now
Barcelona Half-Day Bike Tour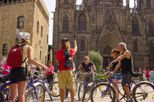 There's no better way to see the sights and learn the history of Barcelona than by joining a bike tour! You get to have fun and socialize, have some exercise and be entertained by your knowledgeable English-speaking guide. This enjoyable and informative outdoor experience also gives you the chance to meet other travelers. There's no doubt it will be the best day you'll spend in Barcelona!
This cycling tour is suitable for all ages and is not the least bit strenuous. You will ride at a relaxed pace, with no hills to conquer, and stops are made every few hundred yards at points of interest to take photos and hear the fascinating history and stories of Barcelona from your excellent guide. You'll have the use of a comfortable and easy-to-ride bike, and gain useful tips and advice about what to do and see while you're visiting Barcelona.
"We had a great time. The guide was fantastic! If you are looking for something new and exciting..try it."

Ryan C, United States of America, July 2010