Why visit / Interesting facts:
Great collection of American Revolution sites
A Boston National Historical Park
Time required:
105 minutes
Phone:
+1-617-357-8300
Public transport:
Subway Red Line: Park Street
Address:
Boston Common (Boston, MA) to USS Constitution (Charlestown, MA)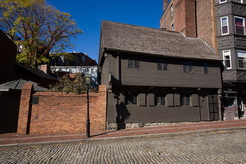 Photo: whisperwolf
Things you need to know:
The Freedom Trail is a 2.5-mile red-brick walking trail throughout Boston that leads you to 16 historic sites. It begins in the Boston Common, and ends in Charlestown with the Bunker Hill Monument and the USS Constitution, and passes important churches and other buildings, graveyards, parks, museums, and ground/building markers along the way
The Freedom Trail was created in 1958 as an effort to preserve many of these sites. The idea came from local journalist William Schofield in 1951
The sites, in order: Boston Common, Massachusetts State House, Park Street Church, Granary Burying Ground, King's Chapel, King's Chapel Burying Ground, Benjamin Franklin statue and the former site of the first public school (Boston Latin School), Old Corner Bookstore, Old South Meeting House, Old State House, site of the Boston Massacre, Faneuil Hall, Paul Revere House, Old North Church, Copp's Hill Burying Ground, Bunker Hill Monument, USS Constitution
What to do there:
Follow the whole trail, or choose your favorite spots to highlight
Get a beer at the Beantown Pub (100 Tremont Street), where you can drink a Sam Adams beer while looking at Samuel Adams' grave, across the street in the Granary Burying Ground
Stop for a cannoli or lunch break in the North End (Boston's Italian district), home of the Paul Revere House, Old North Church, and Copp's Hill Burying Ground
Tips & Insights:
Most sites along the trail are free. Three - Old South Meeting House, Old State House, and Paul Revere House - have small admission fees, while others suggest donations
Though the trail might not sound like a long distance, it can take quite a bit of time to cover. Allow for breaks, schedule lunch in the middle of the walk, or plan to do some of it on another day
It's helpful to bring along a guide (often included in any Boston guidebook, or purchased at the visitors' center at the start of the trail), since only a little bit of information is posted in the front of each site
Follow the red-brick (or, occasionally, red-paint) trail to stay on track!