Boston Whale Watching Cruise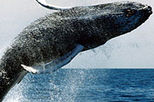 Looking for a whale watch that requires less travel time, offers the most comfortable ride available and gives you more time viewing some of the world's most magnificent creatures? Look no further! Here is Boston's ONLY 3-Hour Whale Watch on a high-speed catamaran. They will get you to and from the whales in half the time, which allows you more time to watch the whales.
Whale sightings on every whale watch. If you do not see a whale on your trip, you will receive a free ticket for a future Boston Whale Watching Cruise.
"We had a wonderful time. We saw a mom and her baby humpback for several minutes right beside the boat! We saw several whales. Some were far away but a few were very close. It was a wonderful experience.We all loved it and have been telling everyone about it. The crew was knowledgable and the whales were spectacular!"

Stephen L, USA, August 2010
Book your Boston Whale Watching Cruise now
Boston Dinner Cruise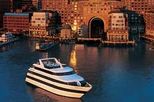 For the ultimate in elegance, you can't go past this three-hour dinner cruise on Boston's famous harbor. Enjoy fine dining, award-winning wines, and entertainment perfectly suited to the evening. Sit and relax as you listen to the music or take a stroll on the decks of Boston's premier dining ship as the city floats on by.
From each of her three climate-controlled dining decks to the Observation deck, Boston Dinner Cruise offers a singularly unique setting that begs to be explored. Understated art-deco accents. Enticing dance floors. And a distinctive atmosphere reminiscent of the classic ocean liners. Be sure to visit the Captain's bridge, open to all passengers throughout most of the cruise.
A menu of creative seasonal hors d'oeuvres, appetizers, entrees and desserts is prepared fresh, on board daily - complemented perfectly by an excellent wine list.
Enjoy high-energy dance bands Soul Poets and Upbeat. Soul Poets is a five-piece band and Upbeat is a four-piece band, each offering something for every one, from Motown to disco, from 80's ballads to swing, and from Latin to jazz standards.
"The most relaxing evening we had in Boston! Everything from the welcome onboard, the delicious dinner, the service and the entertainment were top notch. Boston is best seen from the water, and we experienced fantastic views of the waterfront and of the cruise ships in the harbour. All in all, thoroughly recommended and great value for money."

Jeff G, USA, May 2010
Book your Boston Dinner Cruise now
New England Seacoast Tour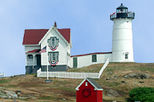 Take the opportunity to view the unique scenery of the New England coast. Travel north through Boston and its "North Shore" communities, making your first stop at Hampton Beach, New Hampshire. Time for a light snack here on your own. Your second stop will be along the rocky coast of Maine, where you will view the famous "Nubble Light" lighthouse in York.
Soak up the beauty of the Maine coast as you head toward Kennebunk Village and Kennebunkport. Kennebunk's tree-lined streets are showcases of 18th and 19th century architecture built by merchants and sea captains. You will then view former President Bush's summer home from Walker Point. Return to Kennebunkport for 2 hours of shopping and lunch on your own at the many quaint shops and eateries in the village.
This tour is seasonal and only operates from June to October.
"Our tour guide/driver was a mine of information, and humorous too. The places we visited were lovely, and the two-hour stop in Keenebunkport was just about right to get lunch and walk around. Great trip!"

Karen H, United Kingdom, July 2007
Book your New England Seacoast Tour now
Cape Cod Excursion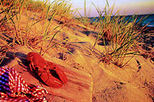 Cruise across the Cape Cod Canal and enter a world of sand dunes and salty beaches. Stop in Hyannisport to visit the JFK memorial, and join in a fully narrated sightseeing harbor cruise, which offers the best possible view of the Kennedy Compound.
Time is provided for lunch (on your own) either before or after the cruise. Then spend the rest of your day sightseeing and shopping in quaint seaside villages along the Cape.
This tour is seasonal and only operates from June to September.
"This was excellent! It was both fun and informative. We learned so much about French wine and how to now choose French wine. I would recommend this tasting for anyone who loves wine and would like to learn more. Learning to read and understand the labels was priceless. Thank you for a great experience!"

Lynne D, October 2010
Book your Cape Cod Excursion now
Salem - The Witch City Tour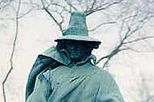 Discover the history of the Salem Witch Trials! Travel north from Boston to historic Marblehead, the birthplace of the American Navy. Visit Abbott Hall to see Archibald M. Willard's famous painting, "The Spirit of 76.
In Salem, step back to 1692 and visit the Salem Witch Museum (admission not included). Learn about the history of witchcraft as well as some of the reasons why the witch trials occurred.
Travel down Derby Street past Nathaniel Hawthorne's Custom House and the House of the Seven Gables. Time is allowed to stop at Pickering Wharf for Lunch and exploring. Whether it is witches or authors, museums or shopping, you will find it in Salem.
This tour is seasonal and only operates from June to October.
"We had a great time. Our tour guide was fabulous. I would recommend this trip to all."

Carolyn B, USA, August 2008
Book your Salem - The Witch City Tour now
Fabulous Newport Tour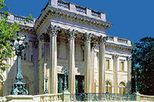 Gilded mansions, million-dollar yachts and beautiful beaches await you. Visit the famous Marble House, summer home of Mrs. Vanderbilt, with 500,000 cubic feet of white marble.
Then, journey to Newport, the Sailing Capital of the World, and admire the Colonial heritage. Stroll along Newport's beautifully restored waterfront for shopping and lunch on your own. See the glamorous private yachts, modern racing sailboats, Newport's fishing fleet and ships from around the world.
In the afternoon, visit a second famous mansion, and enjoy ten-mile Ocean Drive with spectacular views of mansions and secluded coves before returning to Boston.
This tour is seasonal and only operates from June to October.
"Our driver guide was absolutely brilliant - she was funny, and extremely interesting - I cant believe that she knew so much!"

Rena G, Ireland, October 2008