Delphi Day Trip from Athens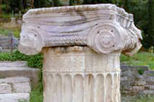 Explore one of the most famous sites of classical Greece on a day trip from Athens to magical Delphi. Famous for its theater, Temple of Apollo and ancient ruins, Delphi was considered the center of the earth and the universe, and played a central role in the classical Greek world.
After taking a scenic drive through Levadia and Arachova (famous for its bright multi-colored carpets), you'll arrive in Delphi at around noon. During your visit to Delphi you'll tour the archaeological site and its museum of treasures, including the unique bronze Charioteer, and proceed along the Sacred Way to the Athenian Treasury.
" Our guide added so much to our trip with stories and information about the area and its history. A great destination and a great presentation."

Alice C, November 2010
Book your Delphi Day Trip from Athens now
2-Day Tour to Meteora from Athens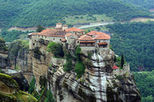 Don't miss the chance to see the amazing cliff-top monasteries of Meteora. This two-day tour takes you across the scenic Plain of Thessaly to Kalambaka and one of the most important groups of Greek Orthodox monasteries in Greece. The monasteries are perched on top of towers of sandstone, which for centuries provided totally inaccessible retreats for the monks.
"Meteora was breathtaking! I have seen many beautiful places around the world, but this is just special. Not just the view, but the whole experience and atmosphere."

Joulie G, October 2010
Book your 2-Day Tour to Meteora from Athens now
Athens Night Sightseeing Tour with Greek Dinner Show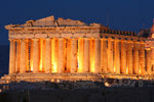 Fuel your appetite with a night-time tour of Athens and the Museum of Ancient Greek Musical Instruments, before relaxing with a Greek dinner show. Taking place at a typical taverna in the renowned Plaka district, it's the perfect way to finish your night out in Athens!
"Most enjoyable. Good meal and entertainment. Also enjoyed the brief night tour provided before the show. Would definitely recommend it to others. Excellent service."

Sharon G S, September 2010
Book your Athens Night Sightseeing Tour with Greek Dinner Show now
Greek Cooking Lesson and Dinner in Athens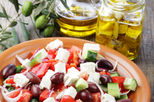 Learn how to cook Greek style, with a Greek Cooking Lesson and Dinner in Athens at a cosmopolitan brasserie on Athens' trendy Valaoritou Street. Cook a 3-course feast from recipes handed down over the generations, then sit back to enjoy the mouth-watering Mediterranean cuisine you've created.
"Really great experience! I was surprised how tasty the meal I cooked was."

Jane D, May 2011
Book your Greek Cooking Lesson and Dinner in Athens now
Hydra, Poros and Egina Day Cruise from Athens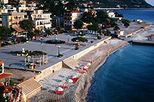 Take a cruise from Athens to the fabulous Greek islands of Hydra, Poros and Egina for a relaxing day on the sea. With all your transport, transfers and lunch organized, you can sit back and enjoy your leisurely cruise with free time on each island to explore.
"This is a full day tour to some beautiful islands. The Greek people are so friendly and giving. The best part of the tour was the people I met on the tour. It's a long day but well worth it."

Shannon R, March 2011