Validity – Articket, Barcelona
Thursday, September 2nd, 2010, 7:04 am
Sometimes there are confusions about the validity of Barcelona Articket. Here is a post to make things clear.
Combined ticket to 7 Barcelona museums
Barcelona Articket is a combined ticket that grants admission to 7 Barcelona museums. You may visit the following museums:
ANTONI TÀPIES FOUNDATION
CONTEMPORARY CULTURAL CENTER
Valid for 6 months
The ticket is valid for 6 month after purchase. You may buy the ticket in any of the museums that it grants access to.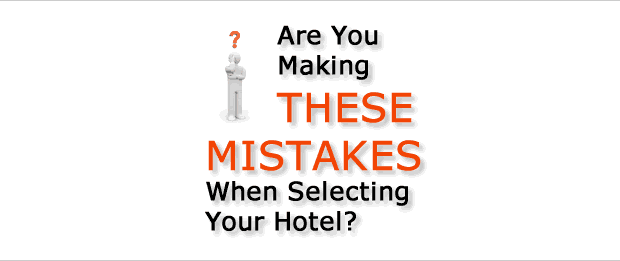 The ticket
The Front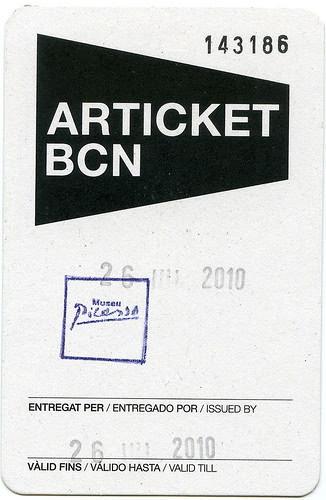 This is how the front of the ticket looks like.
The blue stamp in the middle (Museau Picasso) indicates where the ticket was purchased.
The date above the bottom line tells you until when the ticket can be used. This date is 6 months after purchase.
The Back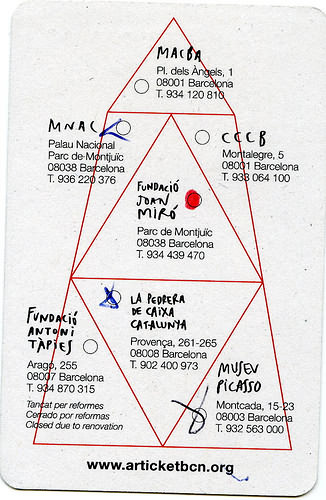 This is how the back of the ticket looks like.
The marks (blue and black crosses and red dot) show you which museum a person has already visited.
As you can see 4 museums out of the 7 have been visited with this ticket.
If a person visits a museum he may not visit it with the same ticket the second time. Unless he gets lucky and the ticket clerk does not pay attention.

More info on Barcelona Articket.
About 9 years ago Luka
Tags: Articket, Barcelona, Barcelona Articket, Validity of Articket
If you liked this post, share it with your Friends: