It's calçots time!
Thursday, March 17th, 2011, 8:50 am
The local gastronomy follows the flow of the seasons. If you are visiting Barcelona during the winter you shouldn't miss a calçotada experience.
Calçots
Delicious green onions
Calçots are a special type of green onion that are harvested only this time of the year. Typically, you only find them available in markets and restaurants from December to March. Anything called "calçot" outside that period is likely to be some other type of onion; not the real one.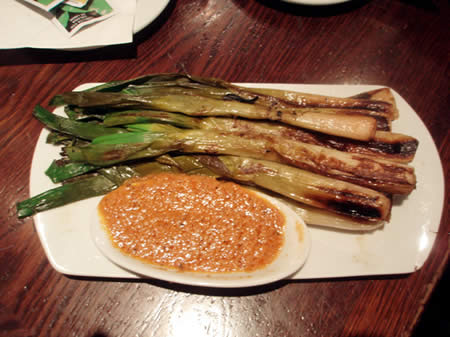 To make sure the edible part (the white lower part, not the green leaves) will be as long and sweet as possible, as the plant grows the farmers keep covering its stalk with earth, so it doesn't become green: that's what makes this green onion a real calçot.
Calçotada
The calçots party
During calçots time locals will organize gatherings where literally hundreds of onions are grilled in charcoal barbecues (one serving consists of 12 to 20 units). People put large bibs on, pinch the end of the onions and pull to remove the burnt outer leaves of the onion then dip the rest in a delicious local sauce: romesco. Try to avoid the sauce dripping into your face while eating it. Messy, but fun!

Romesco sauce
A dip sauce for calçots
Romesco is the name of a Catalan sauce used in many local dishes and is also used as a dip sauce for calçots. Although various towns claim to have been the romesco's cradle, the truth is that in each town each family has their own "secret" and special way to make it. In the end the result is quite similar, and most importantly: yummy! My mom's recipe includes garlic, tomato, bread, almonds and hazelnuts, olive oil, black pepper and a special local type of dried red pepper called "nyora". You can find it in any local food store, as well as in the Boqueria Market.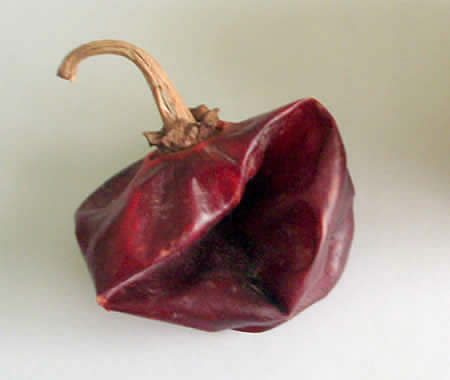 Where to eat them
Best to taste in Valls
If you haven't been lucky enough to be invited by local friends, you can still try the calçots in most good tapas bars and traditional Catalan restaurants, even in some market bars.
But if you have an extra day left, I recommend you to take the RENFE train to Valls, the hometown of calçots to enjoy the best calçotada experience. Good appetite!

Meet our Barcelona Local Expert:
Marta Laurent was born in Barcelona and has been a local expert and official tourguide since 2000. She gives private tours for couples, families and small groups, and specialises in the Gaudí sites, but also loves to stroll around the Old Town (Gothic Quarter, Jewish Section…) and was one of the first local guides to give food tours in town. Her tours are a combination of the best sightseeing, a touch of real local life, some fun entertaining stories and lots of tips for the rest of your stay.
Photo credits (in order of appearance): Marta Laurent (featured photo), Marta Laurent, Marta Laurent
About 8 years ago guest_poster
Tags: Barcelona, calcotada, calcots, Gastronomy, spain
If you liked this post, share it with your Friends: