Heathrow Express explained: Heathrow – London transfer
Monday, March 7th, 2011, 10:04 am
There are several transfer options between Heathrow and Central London. This blog post explains Heathrow Express, the fastest but most expensive option.
Overview
Heathrow Express is a dedicated train service between Heathrow airport and Central London. The two end points of the line are Heathrow Terminal 5 and Paddington Train Station (see map below). The only station in between where the express stops is Heathrow Central. Heathrow Central is the train station servicing Heathrow Terminal 1 and Terminal 3.
About Heathrow Train Stations:
Heathrow currently operates 4 terminals: Terminal 1, 3, 4 and 5. Terminal 2 is closed until late 2014.
The train station for Terminal 1 and 3 is called Heathrow Central. Terminal 5 also has a train station while Terminal 4 does not.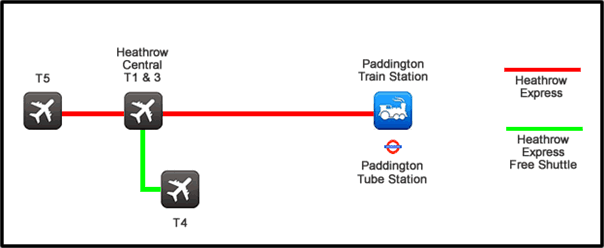 In case of Terminal 4
If you travel from/to Terminal 4 and wish to use the Heathrow Express service, you need to take the free Heathrow Express shuttle between Heathrow Terminal 4 and Heathrow Central. The shuttle is timed for convenient connections with the main Heathrow Express service.
Platforms at Heathrow
All three train stations at Heathrow are deep underground. At each station elevators are available.
Heathrow Express and Heathrow Connect (a slower but less expensive train service between Heathrow and London) share the same platforms. Make sure that you board the right train.
Heathrow Express is free of charge between Terminal 5 and Heathrow Central.
Metro Connections
The terminus of Heatrow Express, Paddington Train Station is serviced by 4 Tube lines: Bakerloo, Hammersmith & City, Circle and District line.
Check Tube map for your transfer options.
Travel time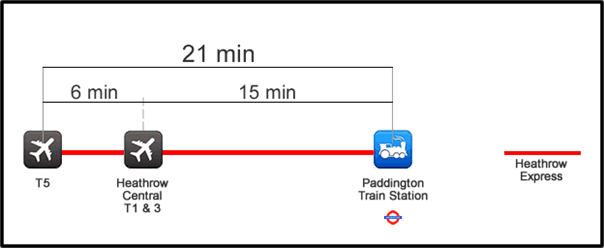 Terminal 5 – Paddington (London): 21 min
Terminal 5 – Heathrow Central: 6 min
Heathrow Central – Paddington (London): 15 min
Ticket Purchase
You have three options to buy your tickets:
Online (light blue area in the top right corner)
From an office/machine at the airport/train station
On board
All major credit cards are accepted as well as cash.
Heathrow Express Ticket Prices 2011
The normal ticket is called Express Class; the premium ticket's name is First Class
| | Adult | Child (5-15 years) |
| --- | --- | --- |
| Normal (Express Class) | £20 (£34) | £10 (£17) |
| First Class | £28 (£52) | £14 (£26) |
( ): The prices for return tickets are included in parentheses.
Additional info:
There are price differences in case of normal (Express Class) tickets:
A £5 surcharge applies in case of on board purchase for adults (£25)
A £2.5 surcharge applies in case of on board purchase for adults (£12.5)
There is no discount or surcharge in case of First Class tickets
Check the official Heathrow Express site for the complete price list
Difference between Normal ticket (Express Class) and First Class
All carriages are air conditioned and offer free Wi-Fi connection and news TV. Plenty of luggage space is available on both classes.
First Class passengers enjoy more leg room and a table is available to them. They also get various magazines and the Financial Times.
Frequency
Trains run every 15 min.
Time of operations:
Between 5 a.m. and midnight. Check official Heathrow Express website for official timetable.

Conclusions
Pros:
Fastest option for reaching central London from Heathrow (15 min)
Direct access to/from Heathrow Terminal 5; no transfer needed
Quick, reliable transfer option to central London without risk of traffic jams
Maximum waiting time between trains: 15 min (vs. 30 min Mon-Sat or 60 min on Sun in case of other transfer options)
Cons:
By far the most expensive option
The advantage of the service can be quickly lost if passengers' final destination is far from Paddington station
No direct access to/from Heathrow Terminal 4; transfer needed to Heathrow Central
Other Heathrow-London transfer options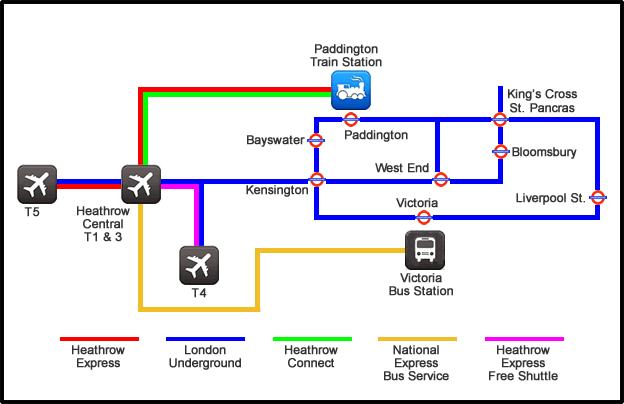 Do you have any questions regarding the Heatrow Express transfer service? Ask them in the comments
About 8 years ago John
Tags: From the airport to the city, heathrow express, London, london - heathrow transfer, UK, United Kingdom
If you liked this post, share it with your Friends: