Find your hotel in Barcelona – neighborhood guide
Thursday, December 16th, 2010, 8:33 am
Do not book your hotel before you read this. Finding a good hotel is not easy in an unknown city. Which are the good and which are the bad areas? Staying in a wrong area and hotel can have a negative impact on your holidays. A central area is not necessarily a good area, is it? This blog post helps you to choose the area in Barcelona that will be right for you.
Barcelona neighborhoods overview map
Please click on the neigborhoods for detailed info
Barceloneta
Highlight: Best access to beaches
This area is the closest to the beaches. Many cafés, bars and tapas restaurants are located here. Good location to book a hotel. It is easy and quick to get into the city center but less busy.
10-15 min from city center
More details and photos on Barceloneta neighborhood
Barri Gótic
Highlights: Unique atmosphere with authentic restaurants and cafés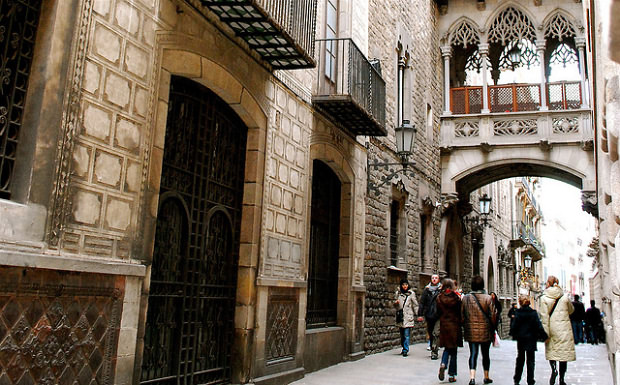 Barri Gótic is part of old town (Ciutat Vella). It has narrow winding streets. Many lively cafés and authentic restaurants can be found here. The North part of Barri Gótic is Barcelona's city center. This area is perfect for travelers who want quick access to the city center or go out in the evening.
Attractions: Barcelona Cathedral, La Rambla, Barcelona Aquarium
Minutes from city center
Eixample
Highlights: Most central, best shopping, best public transportation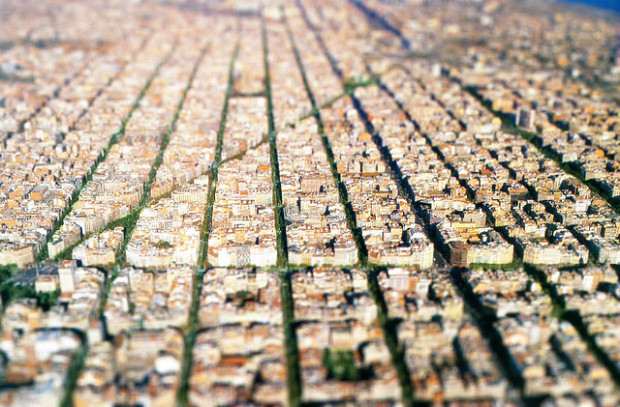 Eixample is Barcelona's most central district. Plaza Catalunya (city center) is part of Eixample. It has the most metro stations. It is one of the best districts to book a hotel in. It is quieter than the other central districts. It has excellent access to all areas and attractions of Barcelona, good restaurants and offers the best shopping opportunities. It is the most expensive though.
Attractions: Sagrada Familia, Hospital de Sant Pau, Pedrera, Casa Batlló, Casa Amatller, Passeig de Grácia
Minutes from city center
El Born or La Ribera
Highlights: Central, less expensive hotel-wise among central districts
El Born is also part of old town (Ciutat Vella). It is somewhat similar to Barri Gótic. It offers a wild range of restaurants, cafés and small shops. It is a good spot for those who want to be in the city center and have easy access to the beaches.
Attractions: Picasso Museum, Ciutadella Park, Barcelona Zoo, Palace of Catalan Music.
Minutes from city center
El Raval
Highlights: Excellent access
El Ravel is part of old town (Ciutat Vella) and is similar to Barri Gótic and El Born. Narrow, ancient streets web the district. It has very good public transportation access. It is definitely an area to see. Some of the areas of El Raval should however be avoided after dark. If possible you should not book a hotel in this area.
Attractions: Contemporary Art Museum, La Rambla.
Minutes from city center
Gracia
Highlights: Quiet, lower hotel prices
Gracia is a quiet, traditional neighborhood with largely elderly population. It also has many narrow streets. Hotel prices are lower than in the city center.
Attraction(s): Güell Park
20-30 min to city center
Horta-Guinardó
Highlights: Beautiful parks
Another large district of Barcelona. It resembles more of a small village than part of a large and cosmopolitan city.
It has many parks and green areas, such as Collserola Park, Guinardó Park, Carmel Park and Labyrinth Park. Its metro stations make it well connected to the city center. Hotel prices are lower.
20-30 min to city center
Les Corts
Highlights: Good hotels for business travelers
Les Corts is a business and financial district. Many large companies have they offices here. This area is best for business travelers. Les Corts falls away from tourist attractions. It is less suitable for tourists.
Attractions: FC Barcelona Museum and Camp Nou
20-25 min to city center

Nou Barris
Highlights: Shouldn't consider for hotels
Nou Barris is a new, densely populated, residential part of Barcelona. Its public transportation is rather good. It doesn't offer much to do for tourists. You should not consider this neighborhood when selecting your hotel.
15-20 min to city center
Sant Andreu
Highlights: Mixture of new and old
In this district Barcelona's most modern and innovative side blends with its traditional and older side. It is a place full of charm characterized by lovely squares and narrow streets. It provides a large variety of entertainment for both locals and visitors. It is well serviced by metro. Areas close to metro stations can be a reasonable choice to find a hotel. Areas farther from metro stations should be considered twice as travel times significantly increase.
Sant Martí
Highlights: Much lower prices
This is the area to stay if you want to be close to the beaches. Sant Martí has many metro stations, so it doesn't take long to get into the city center. This area is much cheaper hotel-wise than the center. Most of the new hotels were built in this area.
It is ideal if you want to keep your accommodation costs lower but don't mind the extended travel time into the center.
Attraction: Barcelona beaches
15-25 min to city center
Sants-Montjuic
Hightlights: Cheaper than the central areas
Sants-Monjuic is one of the largest districts of Barcelona. Large part is however Industrial Zone. The area bordering Eixample is an excellent area to search for a hotel. The area has superb connection to the city center but hotel prices tend to be lower. It is ideal for those who want good access to the city center but want to stay in a quieter area in the evening.
This area is the closest to the airport.
Attractions: Spanish Village, Joan Miro Foundation, Olympic Park, Montjuic Castle, Magic Fountain, National Art Museum of Catalonia
10-15 min from city center
Sarriá Sant Gervasi
Highlights: Quiet, nice and clean
This is another very large district. It is characterized by wealthy residential areas, many parks and green spaces, and prestigious educational services. It offers a large selection of quality restaurants. It is the main access point to the Collserola Park, and Tibidabo. This area is good for those who look for an upscale neighborhood and don't mind a little longer trip into the city center. If you stay in this area make sure that you choose a hotel that falls towards the city center and is close to a metro station.
Attractions: Tibidabo Amusement Park, Temple of the Sacred Heart, CosmoCaixa Science Museum
25-40 min to city center
Which is your favorite neighborhood in Barcelona? Tell us in the comments
Photo credits (in order of appearance): valkyrieh116, oseillo
About 8 years ago Luka
Tags: Barcelona, barceloneta, barri gotic, eixample, el born, el raval, gracia, hotel guide, les corts, montjuic, neighborhood guide, spain
If you liked this post, share it with your Friends: