La Rambla – Barcelona's great strolling boulevard
Wednesday, November 17th, 2010, 5:39 am
Barcelona's great strolling boulevard is the centerpiece of life in the Catalan capital. No visitor to Barcelona should miss the unforgattable experience of walking La Rambla.
The origins
The name La Rambla comes from Arabic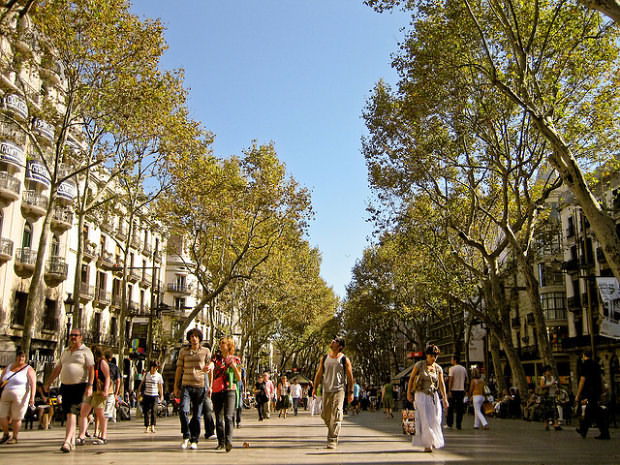 La Rambla is a 3/4 of a mile long (1.2 km) tree-lined pedestrian mall with an engaging and lively atmosphere. It was originally a small stream flowing just outside the city walls. That is what the avenue got its name from. It is originated from the Arabic word 'ramla' meaning the dried-up bed of a seasonal river. Even though it is one continuous street, the Rambla actually consists of five individually named streets. That's why the street is also called in the plural form: Las Ramblas in Spanish or Les Rambles in Catalan.

Parts of La Rambla
From Plaça de Catalunya to the port
The five sections making up La Rambla, each a particular rambla in itself: Rambla de Canaletes, Rambla dels Estudis, Rambla de Sant Josep, Rambla dels Caputxins, and Rambla de Santa Mónica. The shaded pedestrian esplanade runs from the Plaça de Catalunya to the port—all the way to the Columbus Monument.
Boqueria market
One of the greatest markets in the world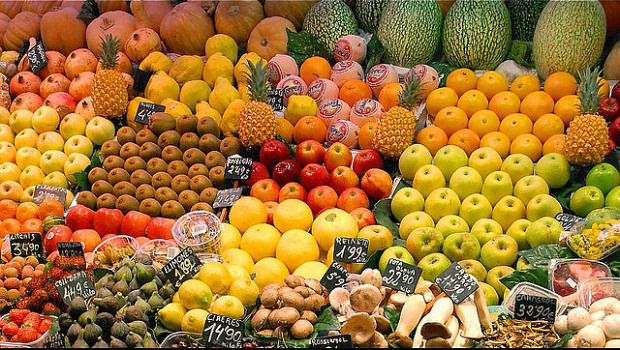 The Mercat de la Boqueria, the city's most iconic market opens from La Rambla. It is a must-see of Barcelona. The first mention of the market dates back to 1217. The friendly stall keepers sell the best products from Catalonia and Spain in one place: the freshest and best quality fruit, vegetables, fish and seafood. The Boqueria's 330 stalls are a living testament to the fertility of the peninsula (Spain produces the widest variety of farm produce in all of Europe) and its surrounding seas.
Street performers
Elaborately conceived costumes and face paint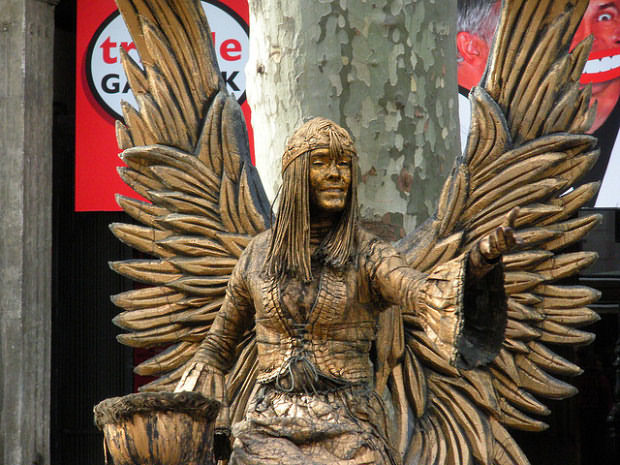 One of the major attractions of walking down Barcelona's main street is watching the numerous street performers, most of which are 'human statues'. Bring all your spare change with you to reward the performers. They will put on a little 'show' for you.
Thousands of people walk over a Miró every day and they don't even know it. A little known fact that the famous painter created a circular tile mosaic on La Rambla. The art works is located near the Liceu metro station.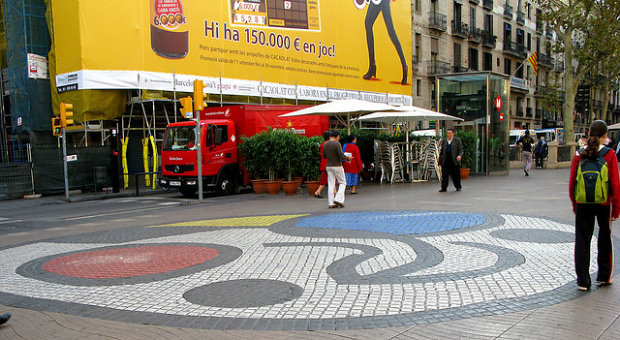 Related pages:
Barcelona Street Artists – photo post
La Rambla – info, photos, videos
Columbus Monument – info, photos
Photo credits (in order of appearance): Rainer Ebert (featured photo), Troy Holden, MarcelGermain, yahya_mekkawi, Laura Padgett
About 8 years ago Luka
Tags: Barcelona, la rambla, spain, Street artists
If you liked this post, share it with your Friends: