Night bus services in Barcelona
Wednesday, October 20th, 2010, 2:37 am
Barcelona has an excellent night bus service. 17 lines serve the city, and they cover much of its territory.
All night buses pass through Plaza Catalunya (see the map below) except for line N0.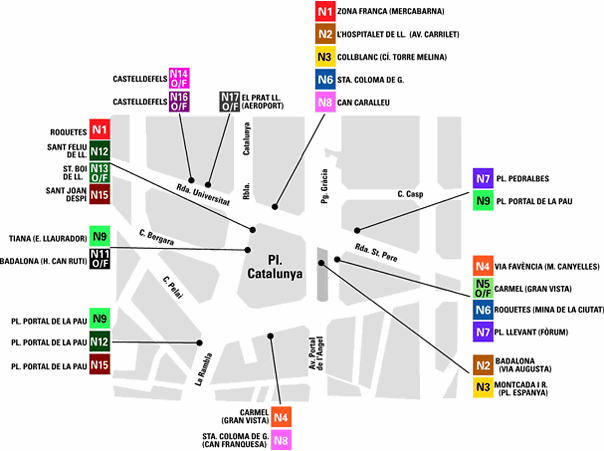 You can check the route of the bus lines on the official website. Please note that the site is only available in Spanish and Catalan, and rather hard to use.

We suggest that you consult the website before your travel, and check the lines that have stops close to your hotel.
To find the night bus line you need, do the following:

4. Hit the button of your choice below the drop down menu

The meaning of each button:
Veura Linia – View the line: list of bus stops with a map
Veure recorregut detallat – View detailed itinerary: detailed itinerary with a map
Veure horaris – View schedules: operating hours and frequency of service
Veure plánol – See map: does not work at the time of writing but the above two button will direct you to a page with a map
5. Consult the next page. Use the map (bottom of the page) to find bus stops close to your hotel.
About 9 years ago Luka
Tags: Barcelona, night bus, night bus services, spain
If you liked this post, share it with your Friends: