Why visit / Interesting facts:
The oldest standing church building in Boston
The signal that started the American Revolution was sent from here
Time required:
10 minutes
Phone:
+1-617-523-6676
Opening hours:
| Time period | Opening hours |
| --- | --- |
| January - Feburary, Tuesday - Sunday: | 10am - 4pm |
| March - May, daily: | 9am - 5pm |
| June - October, daily: | 9am - 6pm |
| November - December, daily: | 9:30am - 4:30pm |
| Thanksgiving, Dec 25: | Closed |
Public transport:
Subway Orange Line: Haymarket
Subway Green Line: Haymarket
Address:
193 Salem Street, Boston, MA - USA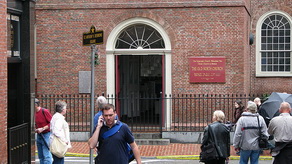 Photo: Ron Dauphin
Things you need to know:
The Old North Church (officially, Christ Church in the City of Boston), located in the North End neighborhood of Boston, is the oldest standing (and active) church building in Boston, built in 1723
The church is a parish of the Episcopal Diocese of Massachusetts, and holds services every Thursday and Sunday
This is the spot from which the famous "One if by land, and two if by sea" signal is said to have been sent
On the evening of April 18, 1775, the church sexton, Robert Newman, climbed the steeple and held up two lanterns (for just under a minute, to not attract British attention) as a signal from Paul Revere that the British were marching on Lexington and Concord, and by sea rather than by land. This event started the American Revolution
In 1775, most of Old North Church's congregation were loyal to Britain, which made Robert Newman's loyalty to the Patriots all the more extraordinary and surprising
Houses a bust of President George Washington, which the Marquis de Lafayette said was the best likeness of Washington that he had ever seen
The original, famous steeple of the church was toppled by a storm in October 1804, then its replacement was destroyed by Hurricane Carol in August 1954. The current steeple combines design elements of both
What to do there:
Stop by on your way along the Freedom Trail
Take a seat in one of the church's old pews to hear a ten-minute presentation from a church guide, presenting the history of Old North
Walk around in a self-guided tour
Tips & Insights:
Though this church doesn't require much time to visit, it's well worth a stop, even just to see how different the pews are from modern churches
Unfortunately, don't bet on climbing the stairs to the spot where the famous two lanterns were hung - the stairway is far too steep to allow visitors to go up
Walk around and look at the names on the outside of each pew box. You'll probably recognize a few!