Why visit / Interesting facts:
Lively waterfront
Vibrant downtown
Great food destination
Time required:
120 minutes
Phone:
+1-207-772-6828
Public transport:
Address:
Portland, Maine - USA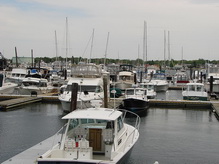 Photo: Stephen, O.Cist.
Things you need to know:
Portland is the largest city in the U.S. state of Maine, and is largely considered Maine's cultural, social, and economic capital. It has a lively waterfront, a vibrant downtown, and yet has a laid-back, small city feel
As of 2007, the estimated city population was 62,875
Portland is located about 100 miles (161 km) north of Boston
Portland's downtown is known for its Arts District (which runs along Congress Street) and the Old Port, which both have a high concentration of eating and drinking establishments, as well as shops, museums, galleries, and tours
Portland has become nationally known for its quality of restaurants, and the chefs who run those kitchens. Some recent awards include being named "Foodiest Small Town in America" by Bon Appétit magazine (2009), and featured in The New York Times as a food destination. Portland was also one of three finalists for "Delicious Destination of the Year" at the 2007 Food Network Awards
One of the top U.S. cities in restaurants and bars per capita, second only to Seattle - it has over 230 restaurants alone
Fun fact: the city of Portland, Oregon was named for Portland, Maine
The Great Fire of July 4, 1866 destroyed most of city's commercial buildings, half its churches, and hundreds of homes. The city seal now depicts a phoenix rising from the ashes, and the city's motto is Resurgam, Latin for "will rise again"
What to do there:
Stroll the downtown Arts District and Old Port, whether your interest takes you in the direction of neat independent shops, or a wide array of food. We're fully in favor of a gastronomic tour! Walk it off along the water
Catch some small-town baseball by supporting the Portland Sea Dogs during summer
Visit one of downtown Portland's many museums
Hike around Back Cove, a large inlet connected to the sea by a canal, which has a recreation path that over 3 mi (5 km) long, and was designed by Frederick Law Olmstead. Or take a boat to one of the many nearby islands for a more remote nature hike
Take advantage of the amazing restaurants in town, many of which are focused on locally-sourced food. Portland is the most ethnically and culturally diverse town in Maine, so no need to just stick to local seafood. IT's also very eco-conscious, so you'll find a wide array of vegetarian and vegan options
Don't miss the local microbreweries. Be sure to try beer from such locals as Allagash (top-notch), Casco Bay, DL Geary, Gritty McDuff's, and StoneCoast breweries, served in many of the restaurants in town
Tips & Insights:
Portland doesn't have a very extensive public transit system, so it's probably best to rent a car to get there and to get around once you're in town
If you'd like to stick around Portland longer, but want to save money on hotels, consider camping at one of the many nearby campsites
A fun side trip while in town is to the Portland Head Light. Consider picking up lunch at the gigantic Whole Foods in town, or another smaller market, then drive out to the Head Light on Cape Elizabeth for lunch. Just be sure you're hungry for dinner back in Portland