Why visit / Interesting facts:
Beautifully presented ancient artifacts
Modern, stylish architecture
Great view from the top floor
Time required:
90 minutes
Phone:
+30 210 9000900
Opening hours:
| Time period | Opening hours |
| --- | --- |
| Tue - Thurs, Sat, Sun: | 8am - 8pm |
| Friday: | 8am - 10pm |
| Monday: | Closed |
| Jan 1, March 25, Easter Sunday, May 1, Dec 25 and 26: | Closed |
Admission:
| Ticket type | Charge |
| --- | --- |
| General: | 5 € |
| Reduced: | 3 € |
Public transport:
Red Metro Line: Akropoli station
Address:
15 Dionysiou Areopagitou Street, Athens 11742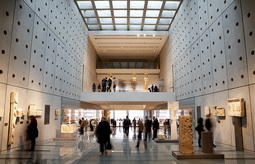 Photo: Visit Greece
Things you need to know:
The New Acropolis Museum houses all the sculptures and fragments from the Acropolis of Athens. Some 4000 works are on display
The museum opened in 2009. The original Old Acropolis Musuem (1874) became too small to house all the new artifacts uncovered in successive excavations
The museum was built on an archeological site. The glass floor gives a view over the ruins of Roman and early Byzantine Athens
Four of the original 6 Caryatids (female shaped columns) from the Erechthion (an ancient temple in the Acropolis) are displayed here
Lord Elgin removed one of the Caryatids to decorate his Scottish mansion. It was later sold to the British Museum. The other Caryatids disappeared during Ottoman rule
Multiple unsuccessful requests were made to reclaim the statue form the British Museum. An area is reserved for the return of the Elgin marbles
What to do there:
Admire the impressive modern building from the outside
Upon entering the museum do not miss the occasionally transparent floor that provides a view of the archaeological excavation
Follow the well marked exhibition route. It will take you all the way up to the third floor and guide you back to the ground floor
Watch the informative video in the third floor video area
Enjoy the splendid view from the top floor
!
Tips & Insights:
It is not allowed to take photos inside
If you do not have the time for a full visit you can get a free ticket that only gives access to the second floor restaurant area. You can enjoy the view of the Acropolis from the terrace of the restaurant