Why visit / Interesting facts:
The city's oldest house
Calm, peaceful oasis
Time required:
30 minutes
Phone:
+31 20 622 19 18
Opening hours:
| Time period | Opening hours |
| --- | --- |
| Daily: | 9am - 5pm |
Admission:
| Ticket type | Charge |
| --- | --- |
| General: | Free |
Public transport:
Tram Line 1: Spui stop
Tram Line 2: Spui stop
Tram Line 5: Spui stop
Address:
Nieuwezijds Voorburgwal 373, 1012 RM, Amsterdam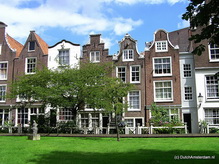 Photo: dutchamsterdam
Things you need to know:
Begijnhof is a leafy garden courtyard in central Amsterdam that is the original epicenter of the city from which it expanded
The houses belonged to Begijn, a lay Roman Chatolic sisterhood living in a loose semi-monastic community but without formal vows
No. 34, Het Houten Huis, is the city's oldest house and one of two remaining timber houses. Timber houses were banned in 1521 after a series of catastrophic fires
No. 30 is the Begijn Chaple (Begijnhofkapel) the sisterhood's chapel built in 1671
Begijnhof remained active even arter 1578 when the city converted from Catholicism to Protestantism. The last Begijn died in 1971
The central church is the English Church (Engelse Kerk)
Today the houses are privately owned.
What to do there:
The entrance can be found on Gedempte Begijnensloot
Enter the wooden door and you will feel like in an oasis of silence
Walk around and look around in the peaceful courtyard
Enter the Chatolic chapel to see a stained glass window of the Pilgrims praying before boarding the Mayflower
Tips & Insights:
Please respect the tranquility of the place