Why visit / Interesting facts:
Over 30 different beer styles
Entertaining tour for all ages
Over 21, the tour comes with tastings
Time required:
65 minutes
Phone:
+1-617-368-5080
Opening hours:
| Time period | Opening hours |
| --- | --- |
| Monday - Thursday: | 10am - 3pm |
| Fridays: | 10am - 5:30pm |
| Saturdays: | 10am - 3pm |
| Dec 24, Dec 25, Jan 1: | Closed |
Admission:
| Ticket type | Charge |
| --- | --- |
| General: | Free |
Public transport:
Subway Orange Line: Stony Brook
Address:
30 Germania Street, Boston, MA - USA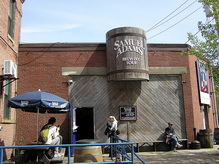 Photo: EdKopp4
Things you need to know:
Samuel Adams (often shortened to "Sam Adams") is an American brand of beer, brewed by the Boston Beer Company. The firm has been in operation since 1984, and was started in Boston
The beer is named in honor of Samuel Adams, an American patriot who's best known for his role in the American Revolution and the Boston Tea Party. Legend has it that he inherited a brewery from his father, but wasn't nearly as successful with that as he was with leading rebellions
The Boston Beer Company became the largest American-owned brewery in the United States, after Anheuser-Busch was sold to InBev
Samuel Adams makes over 30 different beer styles. It's now sold in all 50 states, and in 20 foreign countries
It has won more awards around the globe than any other brand
They produce Samuel Adams Utopia, evidently the strongest beer in the world
Jim Koch, one of the founders, came from a line of family brewers spanning 150 years. When he decided to start the brewery in 1984, he helped start the American craft beer movement
The name "Samuel Adams" was chosen since the real Adams was known as a revolutionary thinker and "Boston firebrand", who also happened to inherit beer-making from his father
What to do there:
Go on a brewery tour - all ages are welcome on the one-hour tour
Be sure to bring proper I.D. - if you're over 21, the brewery tour comes with tastings
Buy some to take home!
Tips & Insights:
If you have a chance, read the History of Beer and History of Samuel Adams on the brewery's website first - it offers great context for the beer you're about to try
Perhaps since brewery tours here are always free (and fun), it's probably best to avoid a weekend tour (and the ensuing crowds) if you can
Since you've already taken the time to go a little farther afield in Boston, combine the brewery tour with a walk around the nearby Arnold Arboretum or a great meal on Centre Street in Jamaica Plain