Why visit / Interesting facts:
Part of Boston's Emerald Necklace
Home to plenty of recreation
Great fishing spot
Time required:
40 minutes
Public transport:
Subway Orange Line: Green Street
Address:
Arborway and Pond Street, Boston, MA - USA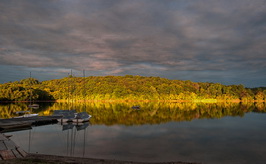 Photo: andrewjosephkatz
Things you need to know:
Jamaica Pond is a kettle pond that's part of Boston's "Emerald" necklace of parks. The pond is in the Jamaica Plain neighborhood, and on the edge of Brookline
Jamaica Pond is home to plenty of recreation. It has a 1.5-mile path around it, which locals make regular use of. Fishing is allowed with a Massachusetts fishing license, and during the summer, sailboats and rowboats can be rented at the Jamaica Pond Boat House
The pond has an area of about 68 acres (28 ha) and is 53 feet (16 m) deep at its center, making it the largest and deepest body of fresh water in Boston
It used to host a popular winter skating carnival. In 1929, the festival was brought to a halt by Mayor Curley when cracks appeared on the ice, and 50,000 skaters had to be evacuated
The Jamaica Plain Ice Company supplied ice in the winter to Boston and beyond - as of 1874, they harvested as much as 5,000 tons of ice a day from Jamaica Pond
The name "Jamaica" comes from an Indian name meaning "abundance of beavers"
What to do there:
If you like running or just some good nature walking, this is the place. Keep in mind it's 1.5 miles around
During the summer, the Boat House is open every day from 9-18h. Rowboats can be rented for $10 per hour, or $5 per hour with a current fishing license. Sailboats can be rented for $15 per hour, from 15:30-18h on weekdays, and 9-18h on weekends. Courageous Sailing offers youth sailing programs for local residents too
Go fishing! Just be sure to bring your Massachusetts fishing license
Keep an eye out for different community events throughout the year, including the Lantern Parade held every October
Tips & Insights:
Street parking can be found on Perkins Street, on the pond's west side. Alternatively, take the orange line subway to Jamaica Plain and use your visit to the pond as an excuse to get some food on Centre Street and see the Arnold Arboretum next door
Some rules to keep in mind for your visit: the path is for pedestrians only, no swimming or wading, no alcoholic beverages, and be sure to keep your dogs on a leash and clean up after them
Even though the park officially closes at 23:30, we'd suggest you avoid it after dark in general
The pond is connected by bike/foot path to the other parts of the Emerald Necklace, so you can make it an easy pit stop on a tour of all the parks