Why visit / Interesting facts:
Excellent side trip from the city
Nice beaches
Time required:
360 minutes
Public transport:
Address: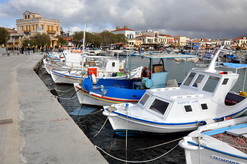 Photo: Jorge Lascar
Things you need to know:
Aegina Island is an island about 28 km (17 mi) from Athens in the Aegean Sea. The island's largest town is also call Aegina
The island is best known for its tasty pistachios and the Doric Temple of Aphaia
The well preserved Aphaia Temple was built in the 5th century BC when Aegina's power was comparable to that of Athens
The town has a lovely 19th century port
What to do there:
Take a regular ferry (Hellenic Seaways, Nova Ferries) from Pireaus port. They run very frequently
The ferry will take you to the main town on the island
From there take the first boat to the island of Angistri (20 min by boat). It is a small paradise. Swim, relax and take a lunch
Take a boat back to Aegina and discover the port area
Take the local bus (or rent a quad) to the Temple of Aphaia (direction Agia Marina)
Head to one of the beaches of Agia Marina (take the bus or a long walk)
From there take the ferry back to Pireaus
!
Tips & Insights:
Do not miss the delicious pistachio ice cream
On your way back to Pireus try the flying dolphin hydrofoil (weather permitting)
If you are interested in more islands you can do the islands Aegina, Hydra and Poros in one day
See this site for more detailed information