Why visit / Interesting facts:
Europe's westernmost point
Stunning views
Time required:
60 minutes
Public transport:
Bus nr 403: Cabo da Roca stop
Address: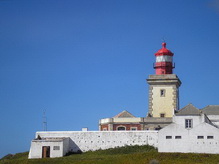 Photo: JoCampos
Things you need to know:
Cabo da Roca is a cliff in Sintra-Cascais Natural Park rising 140m (460ft) above the Atlantic Ocean
The place is touted as Europe's most western point. The visitor center issues certificates to visitors proving that they have been to the most westerly point of Europe
The 22 m high lighthouse that dominates the cape was built in 1772. It stands on the highest point of Cabo da Roca
Cabo da Roca was used to be called the Rock of Lisbon
Another hightlight is a landmark cross. The inscribed quote by 16th century Portuguese poet Luis de Camoes calls Cabo da Roca the place "where the land ends and the sea begins"
What to do there:
Discover the surroundings, have a coffee and take pictures
Enjoy the great views and nice sound of the waves hitting the high cliffs