Why visit / Interesting facts:
Grand and spacious square
Remarkable buildings
Time required:
30 minutes
Public transport:
Metro Line 2: Kossuth tér station
Address:
Szabadság tér, Budapest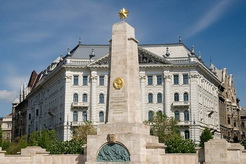 Photo: dannyfowler
Things you need to know:
Szabadság square is a grand and spacious square in central Budapest. It was laid out in 1886 at the site of the former Neugebäude (1789-1886), an evil repute fortress-like building
Now grandious buildings surround the square such as the Hungarian National Bank and the former building of the Hungarian State Television
The Art-Nouveau building of the National Bank was built in 1905 as the Budapest Headquarters of the Austro-Hungarian Bank
The impressive building that dominates the west side of the square first housed the stock exchange. From 1955 till 2010 it gave home to the Hungarian Television
Hungary's first prime minister, Lajos Batthyány, was executed in the Neugebäude on 6 Oct 1949. A memorial commemorates his death at the corner of Bathory utca and Hold utca
The memorial in the middle of the square is the Memorial of the Russian Army paying thanks to the Soviet forces for liberating Hungary from the Nazis
Another highlight is the interactive fountain. When the hidden vertical fountain nozzles are turned on they create an exciting water wall around the square shaped area
What to do there:
Walk around the square and admire the remarkable buildings: the Us Embass, the Art-nouveau National Bank and the former building of the Hungarian Television
Do not miss the Memorial of the Russian Army
Tips & Insights:
Relax on a bench or have a coffee in the café in the center of the square
On a hot summer day you should try the "Interactive Fountain"