Danube Bend Day Trip from Budapest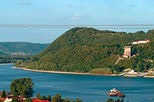 Take an excursion into Hungary's history on this popular Danube Bend full day trip. You'll visit the gorgeous old towns of Visegrad, Esztergom and Szentendre, includes a three-course lunch and a cruise on the River Danube - a highlight of any trip to Hungary!
The day trip takes you to Visegrad, with its medieval citadel and romantic ruins of the former royal residence. Then it's on to Esztergom for an interior visit of the town's famous cathedral.
After enjoying a three-course lunch with coffee, you will continue on to the Baroque artists' village of Szentendre. Here you'll take a guided walk through the town and visit the Caprice Hungarian Jewelry Center, followed by coffee and soft drinks.
Your tour returns to Budapest by boat on the River Danube (May 01 to September 30 only, tide permitting). During other times or at low tide the tour returns to the city center by bus.
"It was great to get out of the city and see a bit of the countryside. Esztergm Cathedral is magnificent and breathtakingly beautiful. I could have stayed there all day. Lunch was at a quaint winery."

Christine R, USA, October 2010
Book your Danube Bend Day Trip from Budapest now
Budapest Segway Sightseeing Tour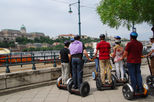 The tour starts with a 30-minute orientation session. You will have time practice on the Segways so that everyone feels comfortable and ready to go out and conquer Budapest.
The 1.5 hour tour gives you a fantastic opportunity to try out a Segway and also give you the chance for a quick orientation of inner Pest and fabulous views of the stunning buildings along our route. Besides the main attractions within the inner Pest, you will also get a quick look at the Chain Bridge, Roosevelt Square and more before heading back to the departure point.
"Absolutely excellent! One of the best tours we have ever done. Our guide was very friendly and informative and the segways were such a fun way yo see the City! We have decided to do a segway tour in every city we visit from now on. Highly recommended!"

BT W, April 2011
Book your Budapest Segway Sightseeing Tour now
Budapest Folklore Show with Dinner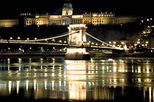 Spend an enjoyable evening at a traditional restaurant in the hills of Buda. You'll enjoy a three-course dinner followed by the typical Hungarian music and dance of a folkloric show.
Your three-course meal begins with an aperitif, and is accompanied by wine. Then sit back and enjoy the varied music and dance of a traditional folkloric show.
On your return to Budapest, you will have a marvelous view of the illuminated city from Castle Hill. The tour ends at either your hotel or at the Casino, where you will be given a voucher for free admission.
"Food was delicious and entertainment was top notch. Location of the restaurant offers magnificent views of Budapest."

Noreen S, September 2010
Book your Budapest Folklore Show with Dinner now
Herend Porcelain Factory and Lake Balaton Day Trip from Budapest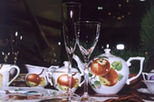 Leave Budapest for the day to visit the famous porcelain town of Herend and the most popular Hungarian resort of laid-back Lake Balaton. The trip includes a guided tour through the world's largest porcelain factory at Herend before continuing to beautiful Lake Balaton.
At Herend porcelain factory, founded in 1826, you'll learn how the tradition of hand-painting the highly successful patterns has been passed down from father to son. You'll have time for a coffee break here, as well as time to purchase some of the world-famous hand-painted porcelain.
The tour continues to Lake Balaton, the largest freshwater lake in Central Europe, scenically located at the foot of the volcanic hills of the Balaton Uplands. Here, you'll visit a traditional tavern to enjoy a three-course lunch with wine.
"This was a great trip, beautiful scenery and very educational about making porcelain. Great 3 course lunch with wine outdoors in the hillside of the Balaton. I can recommend to everyone."

Erika O, USA, July 2009
Book your Herend Porcelain Factory and Lake Balaton Day Trip from Budapest now
Budapest Night Walking Tour and River Cruise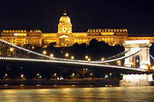 Take a stroll through Budapest, Paris of the East, on this relaxing evening walking tour, then cruise for an hour on the legendary River Danube.
Budapest's magnificent buildings and monuments are brilliantly illuminated at night, making the city appear even more spectacular than by day. This night walking tour is designed to show you the best of Budapest by night, and includes some amazing photo opportunities.
At the end of the tour you will embark on a one-hour river cruise along the Danube. The cruise provides another perspective on the city's illuminated sights, from Pest's Danube Promenade to the Buda Castle district. Enjoy a free welcome drink and an additional drink of choice whilst cruising through Budapest. A commentary is included and there are yet more excellent photo opportunities.
"Budapest is one of the most beautiful cities by night I have ever seen, so being able to see a lot of the sights by night with a very knowledgeable tour guide is a fantastic idea. The cruise on the Danube, (and the free champagne!), just topped everything off. Seeing the castle district at night, from the deck of a boat on the Danube - indescribable."

Rebecca W, September 2010
Book your Budapest Night Walking Tour and River Cruise now
Budapest Sightseeing Tour by Bike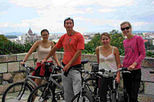 Budapest's sights are spread out, so getting around by bike is the best way to see the city. Peddling along bike paths is easier than walking and much more fun plus you'll visit places that sightseeing buses can never access.
While you cycle, your professional guide will fill you in on the city's history to help you gain a greater understanding of Budapest and Hungary.This is the easiest and most entertaining way to see Budapest and you also have the chance to sample typical Hungarian food at the end of the tour!
"This tour was fantastic! Since Budapest is a large city split by a river, it was an excellent way to see it all! Akos, our tour guide, was extremely knowledgeable with the history of Hungary and Budapest. This tour was one of our favorite memories in Budapest!"

Trina Z, October 2010